Springfree trampoline R79
Product details: Springfree trampoline R79
Jumping mat with a diameter of 300cm, a lot of fun for fun and action (round assembly)
This medium-size, round trampoline is especially suitable for medium-size gardens
Attention: The actual required space is as twice as big as the diameter due to the very flexible outer parts. Please pay attention to that for planning and purchasing.
Max. user-weight: 100 kg
Range of use: Outdoor
---
Description: Springfree trampoline R79
Springfree trampoline R79: For medium-size gardens with maximum fun
You get a lot of space for fun and high jumps on a diameter of 300 cm. The round shape of the Springfree R79 Medium Round offers the possibility for lively playing and romping.
Springfree trampolines: Maximum safety & fun for young and old
The revolutionary Springfree trampolines allow for a completely new jumping experience and condition. Springfree trampolines do not have classic springs, but highly-elastic fibreglass rods. The rods are mounted below the jumping mat and are outside of the jumping zone - the jumper cannot get in touch with them. The fibreglass rods connect the jumping mat with the frame, which is much below the jumping surface thanks to the special construction. The frame with steel springs of trampolines with springs is just parallel to the jumping surface. The SoftEdge mat and edges of the trampoline absorb up to 30 times more efficiently than common protective covers and offer hence a great safety. The extremely flexible safety nets go without sturdy iron bars. The flexible rods also absorb jumps into the net and avoid painful falls.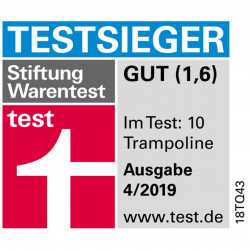 ---
Warranty conditions: Springfree trampoline R79
The guarantee is valid in terms of the general statutory provisions for the end user.
---
Springfree trampoline R79 Test & Evaluations
5 of 5 Stars
(3 Customer ratings)
---
Write a product rating now and win a gift coupon of 500 € or the refund of the paid purchase price. The choice is yours!
---
---
Springfree trampoline R79 Accessories
---
Fitshop puts each fitness equipment through its paces. Then our team of sports scientists, serious athletes, and service technicians of many years of experience evaluate the products of different categories. Compare easily the products using the Fitshop expert review and find your appropriate equipment.