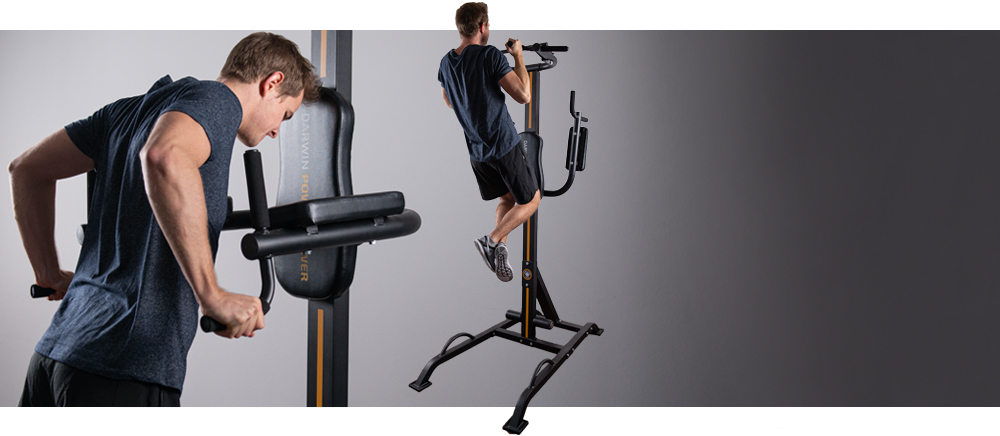 Darwin Power Tower
Effective upper body training!


Arms, back, stomach and chest exercises

Workouts using the least room


Effective training with just one device taking up less than 2 m²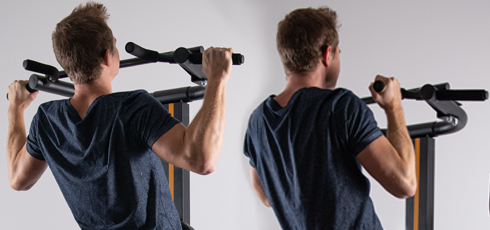 A healthy back proves delightful
The Power Tower offers many ways to train pull-ups. With the numerous handles, you can do narrow and wide pull-ups as well as with a parallel grip, an undergrip or an overgrip! For maximum agility, simply fold the associated dip station back!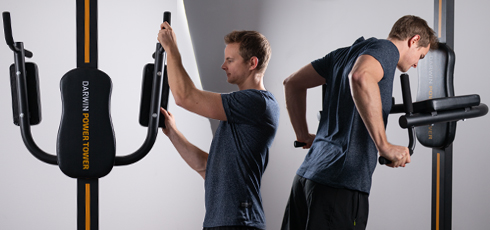 Everything for a strong upper arm!
With the integrated dip station, you can train your triceps effectively. Here, too, you have the option of adjusting the difficulty level. For beginners, the training is suitable in combination with a fitness band. If you are already exercising, simply bend your legs during the dip. Advanced users can try the exercise with their legs stretched out: simply stretch your legs during the dip and your triceps will be put to even more intense use.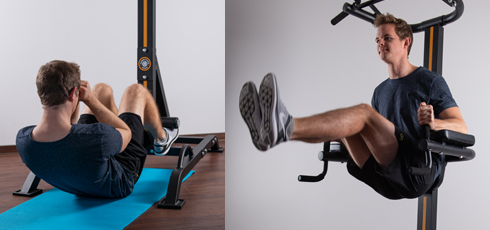 This is how to get a six-pack
In addition to weight loss, the best way to achieve a six-pack is effective muscle-building training. You can train your straight and oblique abdominal muscles optimally on this fitness machine! You also have many training options for this muscle group. How about sit-ups, diagonal crunches or leg raises, for example? With the Darwin multi-gym Power Tower, there are no limits to your workout creativity!
---
Product details: Darwin Power Tower
Effective body weight training on smallest space
Great variety of exercises: chin-up, leg lifting, dips, push-ups, etc.
Special training of the whole torso
Dip module can be folded up
Can be combined with many other fitness products, i.e., weighted vests or physio tubes
Max. user weight: 120 kg
Dimensions set-up - Darwin Power Tower: (L) 140 cm x (W) 90 cm x (H) 220 cm

---
Description: Darwin Power Tower
Full power in a small area
The Darwin multi-gym Power Tower is a compact yetvery functional training device. Through its many exercises, which your own body weight controls, you can create a versatile and varied workout. Effectively exercise arms, back, abs without mounting weights. With your body weight, you control and regulate the intensity of your workout yourself. Due to its compact dimensions, the Darwin multi-gym Power Tower is the ideal device for your home.
Variety of exercise options
The Darwin Power Tower affords you many different exercise options. The Power Tower is especially ideal for upper body training, offering a pull-up bar, dip station and push-up handles. The arms of the dip station can be folded up for you to do your pull-ups unhindered. Optimise the strength of your chest muscles, arms and shoulders by using the push-up handles of the Power Tower. Here, too, you can alternate between different exercises. Either you can choose to workout with both push-up handles and do wide push-ups, or you just take one handle and do tight push-ups that work on both the chest and triceps!
---
Warranty conditions: Darwin Power Tower
The guarantee is valid in terms of the general statutory provisions for the end user.
---
Darwin Power Tower Test & Evaluations
5 of 5 Stars
(4 Customer ratings)
---
---
---
Darwin Power Tower Accessories
---
Fitshop puts each fitness equipment through its paces. Then our team of sports scientists, serious athletes, and service technicians of many years of experience evaluate the products of different categories. Compare easily the products using the Fitshop expert review and find your appropriate equipment.