cardiostrong FX90 Touch cross trainer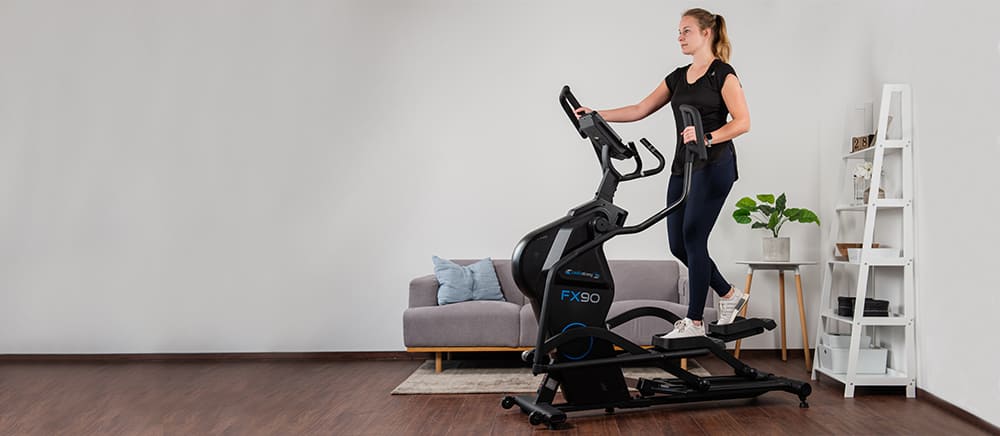 cardiostrong FX90 Touch cross trainer
Operation is child's play

Thanks to the state-of-the-art touchscreen console

Adjustable gradient

From cross-country skiing to stair climbing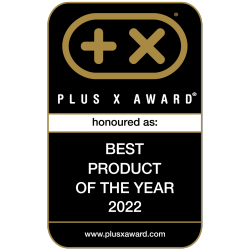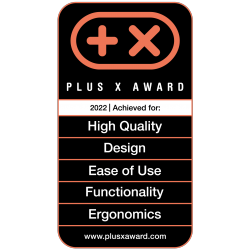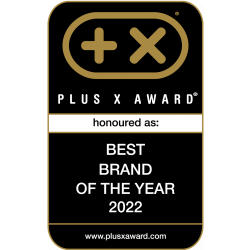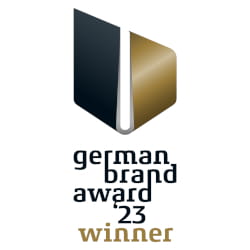 Individual gradient adjustment
Whether you prefer to train for cross-country skiing or climbing stairs, the gradient adjustment gives you the ability to customise your training focus. For example, if you choose a higher gradient, your glutes will be more involved. With a lower gradient, more strain is placed on the thigh muscles. You can choose between 7 gradient levels, which you can easily select using quick-selection buttons.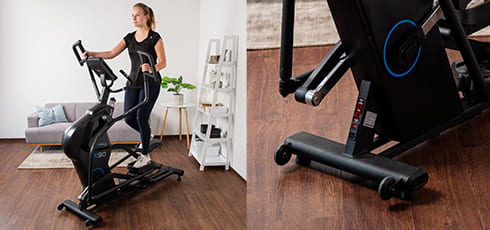 Home fitness – even for the smallest of houses
With a length of just 158 cm, the FX90 Touch is a true space-saving master. This makes it easy to place in any office, living room or workout room – wherever you like to exercise. Transport wheels are attached to the front of the device which can be used to easily move the cross trainer around the room and train somewhere else.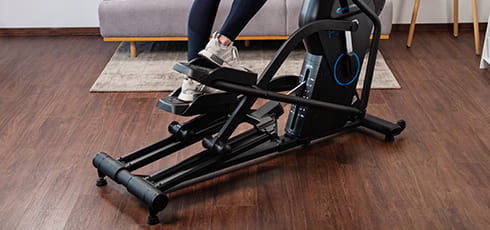 Quiet during training
Thanks to the rubberised dual wheels on each side, the FX90 Touch is very robust and also very quiet, even when the workout gets really intense. Due to the wide feet and the four adjustable mini feet, the FX90 Touch is extremely robust and any unevenness in the floor can be perfectly compensated.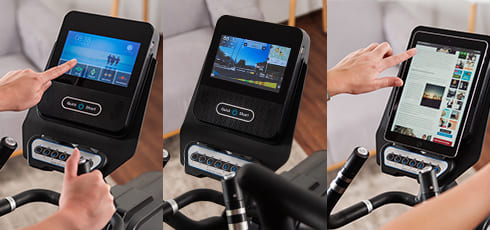 Intuitive operation
On the state-of-the-art console with 7-inch touchsceen display and integrated speakers, you will find entertainment apps such as YouTube, Netflix, Spotify, iRoute or Kinomap. With the Kinomap you can retrace route videos and participate in multiplayer events. You can use the app free of charge for two weeks. The workout will certainly never be boring thanks to the 60 pre-installed training programmes which you can use to adjust the base resistance. The training computer shows you the distance covered, time, speed, number of watts, revolutions per minute, calories burned and your pulse.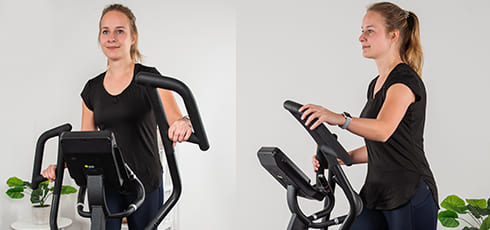 We can handle it!
The multi-handles offer the possibility of different hand positions for every body type and size, which has an optimal effect on the workout from an ergonomic point of view. The hand sensors allow you to check your pulse when needed, or alternatively you can use a chest strap that is sold separately.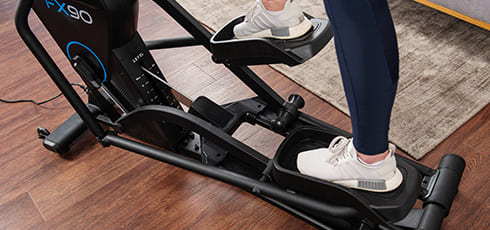 Quality of movement that makes itself clear
In addition to the individual gradient adjustment, the small pedal spacing and the flat stride movement on the FX90 Touch ensure a fantastic training quality. The quiet and smooth running additionally optimises the training.
---
Product details: cardiostrong FX90 Touch cross trainer
Modern console 7" touchscreen display and loud speakers
Crosstrainer with adjustable incline for different movement profiles: from an oval long distance run to climbing stairs
Excellent training quality – small gap between the pedals, large stride length, flat step movement
Entertainment apps: YouTube, Netflix, Spotify, Chrome, iRoute, Kinomap
Easily adjust the incline with 7 hot-key buttons
Very quiet during training – rubber double wheels on each side
Extremely space-saving design – compact dimensions with high movement quality
Training programs:

60 pre-set training programs – base resistance can be set
Watt program – the set resistance will be constanly held
Manual – training data will be counted normally or target values for time, distance or calories burnt
Quick start
4 heart rate programs: 55%, 75% or 90% of your individual maximum heart rate or set pulse value
Revovery test – an approximate calculation of your fitness level based on your heart rate recovery

Kinomap pre-installed – Ride on real route videos, take part in multi-player events, make training programs and much much more (Full version costs extra)
Very stable – wide stabilisers with a total of 4 adjustable feet to even out any un-even surfaces
Large, anti-slip pedals
Everything on hand – the multi-postition grip offers differing hand positions and an ergonomically optimal training for every body type and size
Bottle holder and tablet holder
Heart rate monitoring with a separately available chest strap monitor or via the hand pulse sensors
Max. user weight: 150 kg
Dimensions set-up - cardiostrong FX90 Touch cross trainer: (L) 158 cm x (W) 95 cm x (H) 169 cm

Technical information:

Braking system: electronically adjustable magnetic brake
Output: 10 - 350 W (

adjustable in increments starting from

5 Watt)

RPM-independent resistance control

Balance mass according to the standard of Tiedje: 8 kg

---

When you compare the products, please mind that some manufacturers define differently the balance mass of their crosstrainers. Therefore, the indications can vary among each other. Besides the weights of flywheel, pulley, and caryying wheel respectively cross and blank discs (levelling discs), the indications of balance mass of some manufacturers consider additionally the weights of pedal arms, handle bars, and other parts. This is dubious in our opinion. We define the balance mass as "total weight of flywheel, pulley, carrying wheel respectively cross and blanc discs", which form the rear balance unit.

Balance mass according to the manufacturer: 0 kg

Balance mass according to the standard of Tiedje: 8 kg, of it

Flywheel: 8 kg
Pulley: Not specified by the manufacturer
Carrying wheel: Not specified by the manufacturer
Cross joint and round blank: Not specified by the manufacturer

Aspects which are not included in valuation according to the standard of Tiedje:

Grip bars (R+L): Not specified by the manufacturer
Pedal arm (R+L): Not specified by the manufacturer
Other parts: Not specified by the manufacturer

---

Stride length: 51 cm
Stride height: 12 cm
Stride width: 5.5 cm
ball-bearing mounted joints

Computer:

Resistance levels

: 16
Display:

duration,

distance,

speed,

watts,

RPM

,

calories,

heart rate

Display of exercise profiles via TFT
Exercise programs in total: 69

, of which

custom: 1,

heart rate controlled: 4

User memory: 4

Features:

Heart rate measurement:

hand pulse sensors

+ chest strap (sold separately)
Chest strap for telemetric heart rate measurement sold separately

Power supply: mains adaptor

Extras: transport wheels, drinking bottle holder
---
Description: cardiostrong FX90 Touch cross trainer
cardiostrong FX90 Touch cross trainer – minimal footprint, minimal noise
The FX90 Touch impresses with its small footprint across the board: with dimensions of (L) 158 cm x (W) 95 cm x (H) 169 cm, it is extremely compact and fits into almost any home. The rubberised dual casters provide very smooth movement in addition to minimal noise.
Elliptical trainer with adjustable gradient
An adjustable gradient has the advantage that you can focus individually on gluteal and/or thigh muscles. The training device offers 7 levels of inclination for this purpose. The high-quality ball-bearing joints have a long service life and enable ergonomic and joint-friendly movements. A comfortable and natural hip position during exercise is ensured by the small pedal spacing of 5.5 cm.
60 pre-installed training programmes
… can be found on the 7-inch touchscreen display with integrated speakers. You'll also find entertainment apps like YouTube, Kinomap, Spotify, Chrome, iRoute, and Netflix, meaning your workout is guaranteed to never be boring. Relevant training data such as speed, calories burned, time and distance are automatically displayed during the training programme. In addition, 4 heart rate programmes are integrated: 55%, 75% or 90% of the maximum individual heart rate or a self-selected pulse value.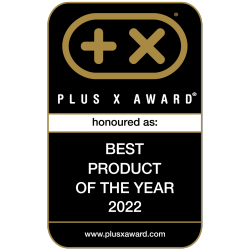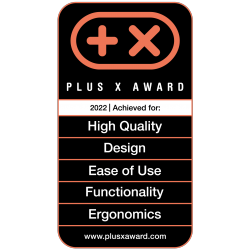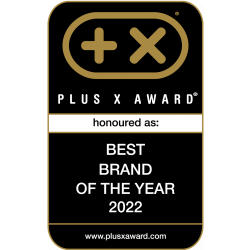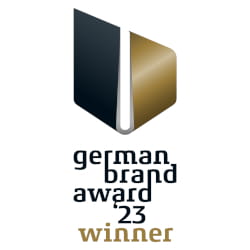 ---
Warranty conditions: cardiostrong FX90 Touch cross trainer
For further information on the warranty, please refer to the manufacturer's terms of warranty. The manufacturer's warranty is an extra service and does not affect your statutory rights.
| Manufacturer's warranty | Full warranty |
| --- | --- |
| Home use | 24 months |
| Semiprofessional use | 12 months |
---
cardiostrong FX90 Touch cross trainer Test & Evaluations
5 of 5 Stars
(6 Customer ratings)
---
---
---
cardiostrong FX90 Touch cross trainer Accessories
---
Fitshop puts each fitness equipment through its paces. Then our team of sports scientists, serious athletes, and service technicians of many years of experience evaluate the products of different categories. Compare easily the products using the Fitshop expert review and find your appropriate equipment.