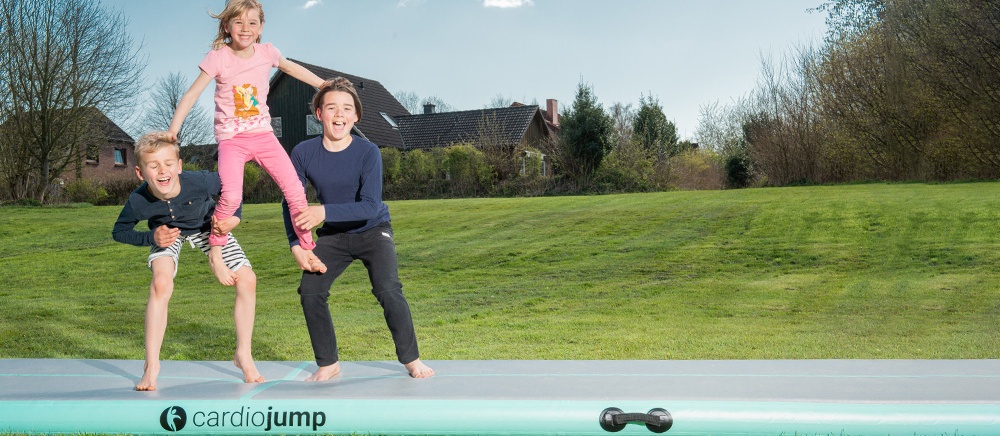 cardiojump Airtrack Matte
Tanzen, Turnen, Toben

Die cardiojump Airtrack Matte ist vielseitig einsetzbar

Umfangreiches Zubehör

Airtrack Matte inklusive elektrischer Luftpumpe, Tragetasche und Flickzeug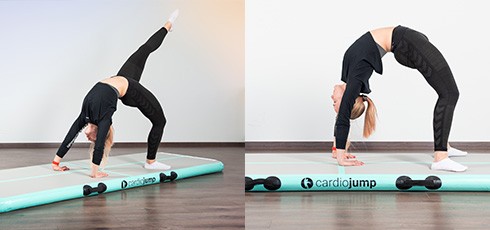 Multifunktionale Sport- und Spielmatte
Ob Turnen, Tanzen oder Toben, die Airtrack Matte ist vielfältig einsetzbar. Führen Sie alle Turnübungen wie Handstand und Flick-Flack auf dem optimalen Untergrund und mit hoher Sicherheit aus. Die Matte ist angenehm gedämpft und dadurch besonders gelenkschonend und leise.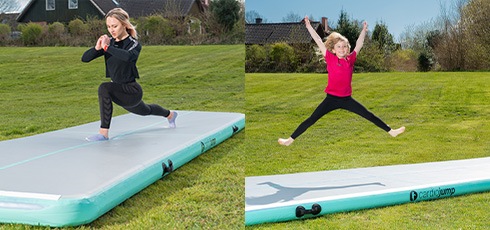 Überall und jederzeit trainieren
Dank der zugehörigen Tragetasche können Sie die Airtrack Matte überall und jederzeit nutzen. Packen Sie die Matte ein und nehmen Sie sie mit in den Urlaub an den Strand oder nutzen Sie die Matte im eigenen Wohnzimmer. Die Airtrack Matte ist wasserdicht und somit auch optimal als schwimmendes Floß auf dem Wasser oder als Rutschbahn geeignet.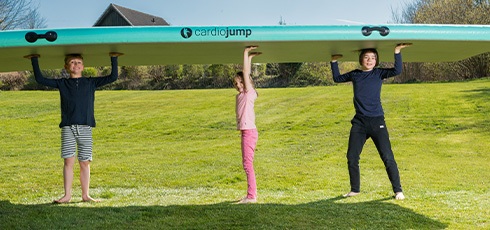 Im Nu einsatzbereit
Schließen Sie die mitgelieferte elektrische Luftpumpe an die Matte und den Strom an. Schalten Sie das Gerät ein und lehnen sich zurück. Die 300 cm Matte ist mithilfe der elektrischen Pumpe innerhalb von weniger als einer Minute aufgeblasen und einsatzbereit.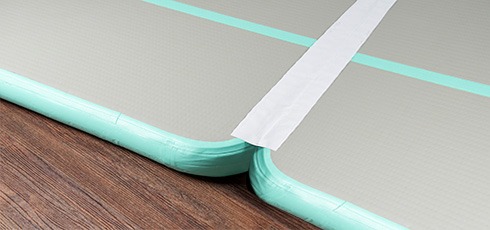 Unendlich erweiterbar
Die Klettstreifen an beiden Enden der Matten und die Verbindungsstücke machen es möglich, mehrere Airtrack Matten miteinander zu verbinden. So erleben Sie ein grenzenloses Spiel- und Sporterlebnis.
---
Product details: cardiojump Airtrack mats with air pump
Airtrack Turnmats: air-filled training mats for training, amusement, gymnastics
Have fun outdoors and indoors: the Airtrack mat is extremely hard-wearing and can be put in place pretty much anywhere
Seaworthy, watertight: you can also use the mat in combination with water, e.g. as a slide or a swimming platform in the pool
High-quality material and workmanship. The PVC-sleeve is air- and watertight and extremely puncture-resistant, all stitching is carefully crafted and also bonded
Especially easy and especially light: Handling the product is very easy: join to the pump and inflation is complete. Thanks to the carrying handles, the mat is also very easy to move whilst still inflated.
Quiet: the noise that often comes with floor exercises is dampened
Carrying handles mounted on both sides: Also easy to handle for kids
A wealth of applications: Balance training, floor exercises, gymnastics, children's play area in the garden, swimming raft, in clubs, dance schools or holiday clubs, the forest, meadows or the lounge
Especially easy to store: the Airtrack mat can be quickly deflated, folded and then safely stowed away and transported in the accompanying carrying case.
Includes an air pump: inflatable in less than a minute, depending on size
Includes carrying case for stowing away and easy transport
Repair kit included in delivery
---
Description: cardiojump Airtrack mats with air pump
Die platzsparende Luftmatte
Ohne Luft ist die Airtrack Matte besonders kompakt und gut zu lagern. Das macht sie auch zur optimalen Alternative zum Trampolin, wenn Sie das Gerät gerne platzsparend verstauen möchten.
Viel Lieferumfang, mehr Spaß
Um das Spielerlebnis abzurunden, bietet die cardiojump Airtrack Matte ein umfangreiches Zubehör an. Im Lieferumfang sind neben der Airtrack Matte auch eine elektrische Pumpe, eine praktische Tragetasche und Flickzeug enthalten. So können Sie ganz entspannt an einem tollen Spiel- und Sporterlebnis teilnehmen.
Groß, größer, am größten
Die cardiojump Airtrack Matte ist in gleich 6 verschiedenen Größen erhältlich. Somit finden Sie immer die passende Größe für Ihre Wohnumgebung und den jeweiligen Einsatzbereich. Also sichern Sie sich noch heute eine Airtrack Matte und erleben ein effektives und spaßiges Training mit der ganzen Familie.
---
Warranty conditions: cardiojump Airtrack mats with air pump
The guarantee is valid in terms of the general statutory provisions for the end user.
---
cardiojump Airtrack mats with air pump Test & Evaluations
Write a product rating now and win a gift coupon of 500 € or the refund of the paid purchase price. The choice is yours!
---
cardiojump Airtrack mats with air pump Accessories

---
Fitshop puts each fitness equipment through its paces. Then our team of sports scientists, serious athletes, and service technicians of many years of experience evaluate the products of different categories. Compare easily the products using the Fitshop expert review and find your appropriate equipment.