Dino Cars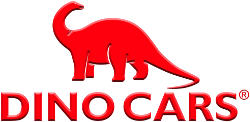 GoKarts for outdoor kids
Dino Cars - All categories in an overview (4)
Playfully discover the world with Dino Cars
Race with friends or transport collected treasures on the trailer: there are no limits to children's imagination with Dino Cars. The spiffy speedsters are made for children who love varied driving. On a Dino Car, junior racers enjoy more technology, higher speeds, and a modern exterior. In short: with Dino Cars, adventurous kids present themselves from their sporty side. Nothing stands in the way anymore of a brisk road race or an adventurous forest tour over hill and dale.
Safe driving fun without limit with Dino Cars
Dino Cars for racers from 5 to 99 years of age are a toy vehicle for the whole family. The first-class select materials at the highest quality and safety level guarantee a high durability and wonderful driving characteristics – passion on four wheels. Dino Cars are constantly technically checked, practically tested, and further developed.
Dino Cars: More than just a GoKart
With the matching Dino Cars accessories, you bring variety to go-kart driving: simply convert the Dino Car into a small construction vehicle with a tipping trailer, loading shovel, or mini excavator. The two-seater trailer or the additional seat, which can be used to take another small passenger, promises double driving fun. With the mirror or the flag, kids who love racing are especially safe on the road.
Dino Cars GoKarts: a look back
Evers GmbH can look back on a tradition of more than 100 years: founded in 1894 as a small family business, the company's main business was the sale and repair of tractors and agricultural machinery. GoKarts as we know them today experienced a real boom in Germany in the 1960s. The current owner of the company, Theo Evers, sent the first Dino Car GoKart into the race in 1994. Since then, the company has constantly grown. The children's vehicle sold so well that in 1999, a dedicated workshop was built for the production of Dino Cars. The spiffy toy vehicles are manufactured in Brural in Emsland – quality made in Germany.