cardiostrong Elliptical Cross Trainer EX70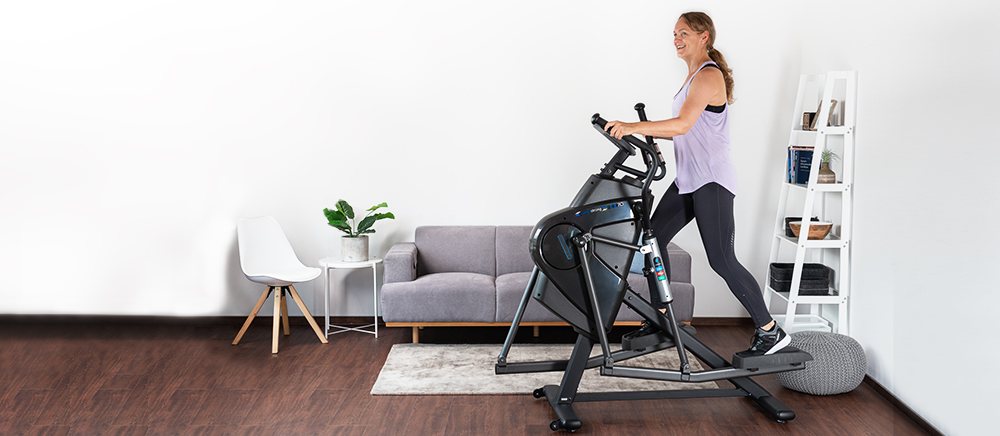 cardiostrong Cross trainer EX70
Joint-friendly full-body training at home
Adjustable stride length

For different body sizes and running styles

Stable construction

For regular, intensive training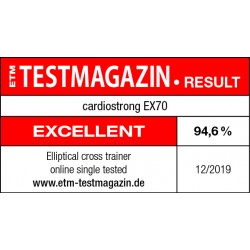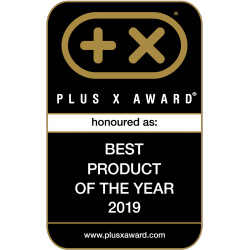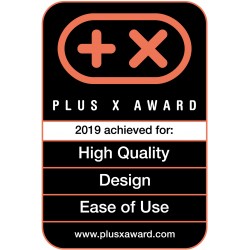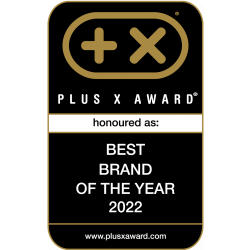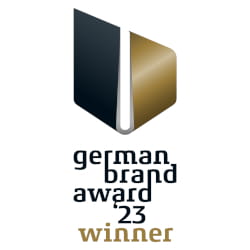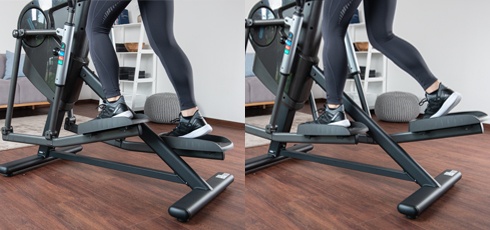 Adjustable stride length
With adjustable stride lengths between 46 and 58.4 cm, the cardiostrong EX70 is perfect if several people want to use it for training on. If you want to set a new training goal, you can simulate different running styles and work different muscle groups thanks to the adjustable stride length.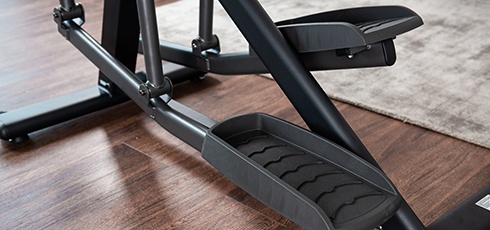 Comfortable pedals
The very large and comfortable pedal surfaces ensure a good and safe position on the cross trainer. You can also pedal forwards and backwards. The pedals can be moved in both directions to add even more variety to the workout.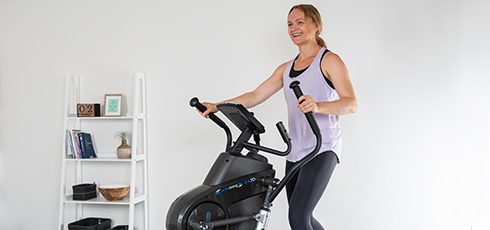 Joint-gentle training
The elliptical movement makes the training particularly easy on the joints. The two-stage drive system ensures smooth running. In addition, double ball bearings make the movement even smoother. The stride width of just 7 cm also ensures a high level of training comfort.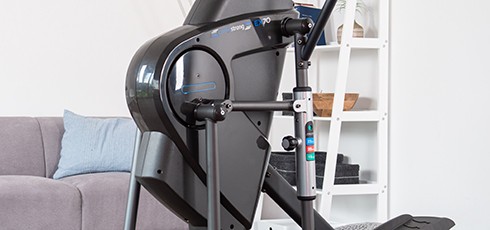 Stable construction
With the cardiostrong EX70, resistance is exerted on the flywheel with a magnet. It is silent and maintenance-free. The frame is of robust construction. This means that even intensive workouts, for example HIIT training, pose no problem in the long term.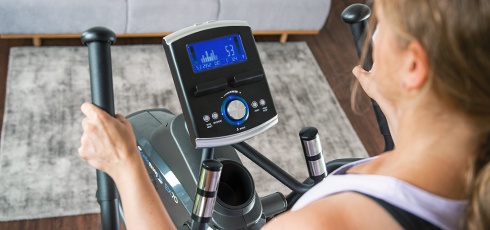 Versatile training computer
You can set up to 32 resistance levels on the easy-to-use display. It also features 19 pre-installed training programmes. The time, distance covered, speed, watts, revolutions per minute, calories and pulse are displayed. Training can also be optimised with a separately available chest strap.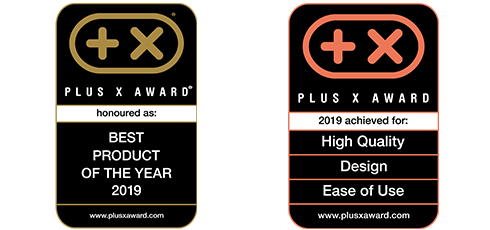 Award-winning quality
With the cardiostrong EX70 Cross Trainer, you get an exceptional fitness all-rounder in your own home. Thanks to its high quality finish, simple operation and stylish appearance, it also made an impression on experts from renowned institutions. At the PLUS X Award 2019 it was honoured in the categories of High Quality, Design and Ease of Use as well as Best Product.
---
Product details: cardiostrong Elliptical Cross Trainer EX70
cardiostrong elliptical cross trainer with adjustable stride length: 46 | 51 | 58.4 cm
A very low entry height of just 17 cm
Adjustable stride length for users of different heights or to have a different training focus
Easy to read, backlit display
Two-level drive system provides a better transmission and a more comfortable concentric run
Poly-V drive belt for an optimal power transmission
Double ball bearings for a smooth movement
Forwards and backwards movement is possible for more training diversity
Very big, comfortable pedal treads
Floor levelling in front and at the back
Dimensions in motion: L 167.5 | W 75 | H 165
Max. user weight: 136 kg
Dimensions set-up - cardiostrong Elliptical Cross Trainer EX70 : (L) 125 cm x (W) 75 cm x (H) 165 cm

Technical information:

Braking system: electronically adjustable magnetic brake
Output: 10 - 350 W (

adjustable in increments starting from

5 Watt)

RPM-independent resistance control

Balance mass according to the standard of Tiedje: 12 kg

---

When you compare the products, please mind that some manufacturers define differently the balance mass of their crosstrainers. Therefore, the indications can vary among each other. Besides the weights of flywheel, pulley, and caryying wheel respectively cross and blank discs (levelling discs), the indications of balance mass of some manufacturers consider additionally the weights of pedal arms, handle bars, and other parts. This is dubious in our opinion. We define the balance mass as "total weight of flywheel, pulley, carrying wheel respectively cross and blanc discs", which form the rear balance unit.

Balance mass according to the manufacturer: 0 kg

Balance mass according to the standard of Tiedje: 12 kg, of it

Flywheel: 12 kg
Pulley: Not specified by the manufacturer
Carrying wheel: Not specified by the manufacturer
Cross joint and round blank: Not specified by the manufacturer

Aspects which are not included in valuation according to the standard of Tiedje:

Grip bars (R+L): Not specified by the manufacturer
Pedal arm (R+L): Not specified by the manufacturer
Other parts: Not specified by the manufacturer

---

Gear ratio: 1:16.7
Stride length: 46 - 58.4 cm
Stride width: 7 cm
ball-bearing mounted joints

Computer:

Resistance levels

: 32
Display:

duration,

distance,

speed,

watts,

RPM

,

calories,

heart rate

Display of exercise profiles via LCD
Exercise programs in total: 19

, of which

custom: 1,

heart rate controlled: 4

Features:

Heart rate measurement:

hand pulse sensors

+ chest strap (sold separately)
Chest strap for telemetric heart rate measurement sold separately

Power supply: mains adaptor

Extras: transport wheels, drinking bottle holder

An elliptical crosstrainer with a joint-gentle, elliptical movement
---
Description: cardiostrong Elliptical Cross Trainer EX70
cardiostrong Cross trainer EX70
The cardiostrong EX70 Cross Trainer combines endurance training that is gentle on the joints but is highly effective. It has many features that make training strenuous but still comfortable. It starts with the ascent, because at just 17 cm the ascent height is very low. The stride width is also very small at just 7 cm. The construction is designed for smooth movements, so that a pleasant concentricity is achieved during training. The cardiostrong EX70 is also relatively short in length, which means it requires less floor space than many other cross trainers.
With the numerous different training programmes, you can bring variety to your training session. The possibility of running forwards and backwards also provides a refreshing change. The display is clear and intuitive to use, so you don't need a long introduction. You can get started right away.
Adjustable stride length
Cross trainers that allow you to adjust the stride length offer two major advantages. If several people in a household train with the same cross trainer, everyone can adjust the stride length that is most comfortable for them or that suits their height. Most people find a longer stride length more comfortable, so the EX70 has a very generous stride length of 46 to 58.4 cm. The second advantage: with an adjustable stride length, different running styles can be simulated and you can train different muscle groups. This brings variety and effectiveness to training. With a shorter stride, you simulate light jogging, while with a longer stride you can almost sprint.
High stability for intensive training
The cardiostrong EX70 is very well made and has stable components that contribute to the fact that the device has no problem withstanding regular intensive workouts. A two-stage drive system transfers the power from the pedals to the flywheel. This system ensures smooth movement. In addition, the resistance is regulated by a magnet. This makes training on the EX70 pleasantly quiet. The frame is robust and has a user load capacity of up to 136 kg.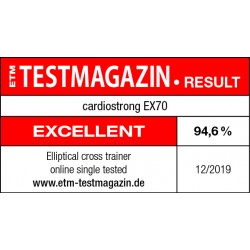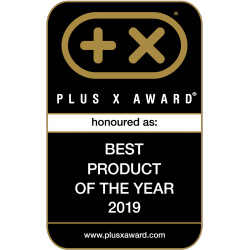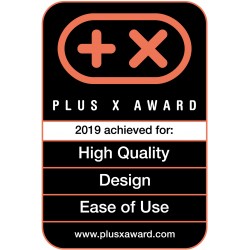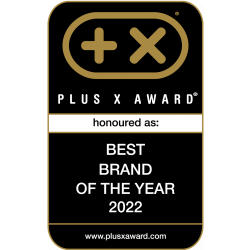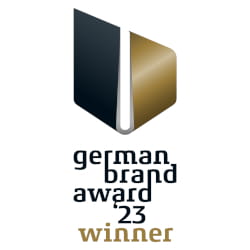 ---
Warranty conditions: cardiostrong Elliptical Cross Trainer EX70
For further information on the warranty, please refer to the manufacturer's terms of warranty. The manufacturer's warranty is an extra service and does not affect your statutory rights.
| Manufacturer's warranty | Full warranty |
| --- | --- |
| Home use | 24 months |
---
cardiostrong Elliptical Cross Trainer EX70 Test & Evaluations
4.95 of 5 Stars
(20 Customer ratings)
---
---
---
cardiostrong Elliptical Cross Trainer EX70 Service & assembly videos
With our videos, we want to help you use your fitness equipment as quickly and as well as possible. In the assembly video, we guide you step by step through the assembly of your device. It's best to watch the video in its entirety and continue to use the printed instructions during assembly.
---
cardiostrong Elliptical Cross Trainer EX70 Accessories
---
Bestsellers of the last 30 days from the category Elliptical cross trainers
---
Fitshop puts each fitness equipment through its paces. Then our team of sports scientists, serious athletes, and service technicians of many years of experience evaluate the products of different categories. Compare easily the products using the Fitshop expert review and find your appropriate equipment.