cardiostrong treadmill TR70i
Item number CST-TR70-3-AUS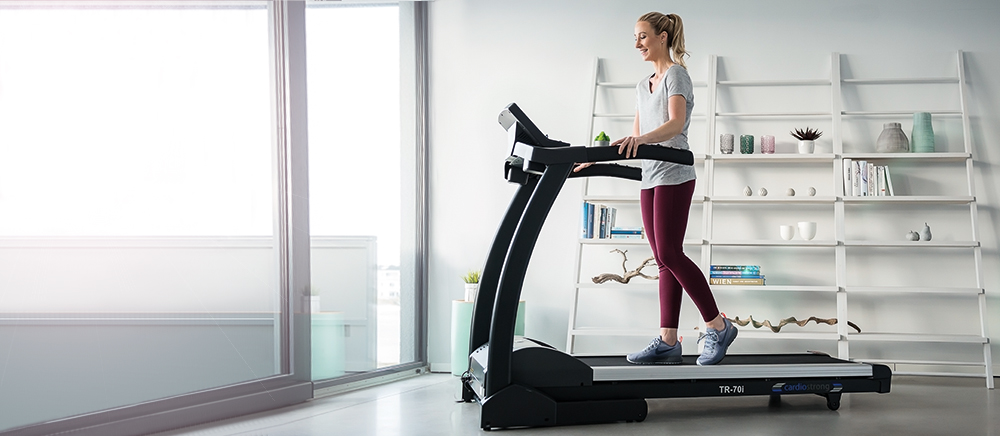 cardiostrong Treadmill TR70i
Your training partner for more endurance and better fitness
Stable treadmill for training at home.

Very good technical equipment that is easy to use

Cardio training with entertainment

58 training programmes, 6 route videos and 8 entertainment apps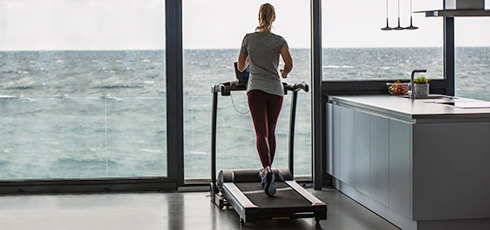 Strong engine, large running surface: more safety and comfort
The TR70i gives you enough freedom to take on new challenges during training: The 3 HP motor accelerates the treadmill evenly up to 20 km/h, enough speed for sprints and demanding interval workouts. The generous running surface offers you safety and comfort, even at high speeds. Would you like to set a new training stimulus? Then feel free to test a hill run with an incline of up to 15%.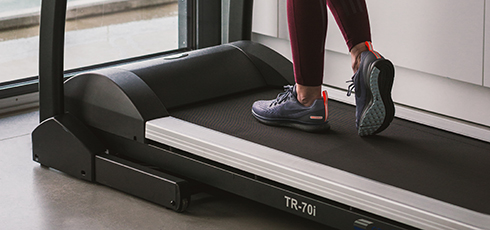 Non-slip aluminium rails
The aluminium rails on the side of the running surface don't just look stylish, they also give the treadmill even more stability. They are also an additional safety feature, allowing you to simply jump off after or during your workout, without having to wait for the treadmill to slow down. The treadmill features a non-slip running surface.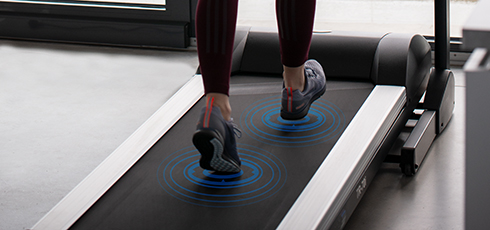 Running with pleasant shock absorption
With the TR70i, you can be sure that you are always walking in a way that is easy on the joints. In contrast to running on hard surfaces, your joints, tendons and ligaments are not under as much strain when training on the TR70i. This is ensured by the absorption elements under the running surface, which gently cushions any impact.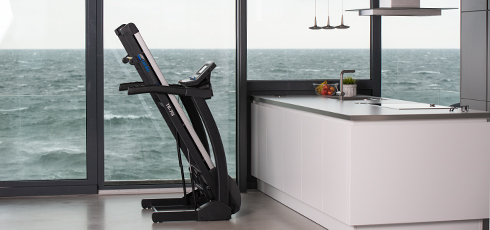 Optimised for running training at home
Start an enjoyable treadmill workout at home: the TR70i is set up in just four steps. The training control is particularly easy, thanks to the touch display and quick selection buttons. The practical shelves provide space for you to put your drinking bottle and smartphone. When you have finished your workout, the running surface can simply be folded up. Now the treadmill can be easily rolled away on the castors.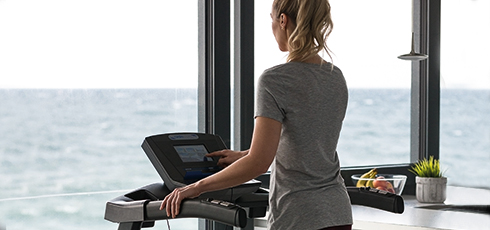 Huge selection of programmes
With 58 training programmes, the TR70i offers one of the largest selections of programmes among treadmills. Train with pulse control, compete against the training computer or get creative yourself: you can create up to 20 programmes by yourself. These are ideal conditions for regular and highly-motivated workouts.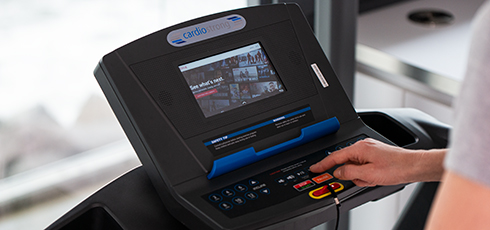 As you run, you can watch route videos, films and much more
Entertainment is guaranteed on the TR70i: thanks to the six route videos, you can run along mountain roads and hilly landscapes from your own home. Great feature: the video playback speed adapts to your running pace. You also have access to eight entertainment and social media apps. With Netflix, for example, you can watch your current favourite series while you run – just pop your tablet in the holder made with this in mind.
---
Product details: cardiostrong treadmill TR70i
Entertainment Apps for quick access are pre-installed: for instance Netflix or Twitter
Good treadmill for cardio training with sprint sessions
For quick starters: Easy assembly and very easy operation
Many varied programmes, for instance, incline intervals or hill run
Space-efficiently foldable
Nice, very stable, and nonslip aluminium rails
Big holder to store all important things and have them within reach while exercising
Technical information:

DC-Motor: HP - continuous duty 3.5 HP
Running surface: 152 x 50 cm
speed: 0.8 - 20 km/h (

Adjustable in increments starting from

0.1 km/h)
incline: 0 - 15 % (

Adjustable in increments starting from

1 %)

Computer:

Display:

duration,

distance,

speed

,

incline

,

calories,

heart rate

Display of exercise profiles via TFT
Exercise programmes in total: 58, of which custom: 20, heart rate controlled: 2
6

speed hot keys

6

incline hot keys

Features:

heart rate measurement:

hand pulse sensors

,

chest strap (sold separately)

Chest strap for telemetric heart rate measurement sold separately

HRS control: adjustment of the

speed

and

incline

on the handrails

Extras:

transport wheels,
---
Description: cardiostrong treadmill TR70i
cardiostrong treadmill TR70i: get fit at home!
A large running surface, powerful motor and numerous clever programmes: the cardiostrong TR70i offers the best conditions for endurance training, losing weight and improving performance at home. The TR70 also provides entertainment: eight apps are already installed on the console for quick access. With Netflix, Twitter, YouTube, Chrome, Facebook, Bing, Amazon and Instagram, the treadmill training session goes by in a flash!
Advanced console with an outstanding variety of programmes
The cardiostrong treadmill TR70i offers 58 programmes – there is something for every training level and every training goal. Very simple to use: you can make all settings directly on the console touchscreen display. Use the direct selection buttons on the central console and handles to easily change the speed or incline even while running. In addition to the manual programme, which is activated simply by pressing the start button, the programmes are arranged in groups:
Heart rate programmes
With the training intensity controlled by the heart rate, certain training goals can be achieved more effectively. For this purpose, the cardiostrong treadmill TR70i has 2 programmes with 2 training modes each. Either your heart rate is kept constant by adjusting the speed or incline, or you can set the heart rate interval programme. Here, phases of higher strain alternate with phases of lower strain. The console sets the speed or incline so that you achieve the preset heart rate.
Virtual Route Videos
6 "Virtual Simulation" videos are pre-installed on the console. These are videos of running routes that you can watch on the screen during your training session. During the workout, you can change the speed or incline at any time using the arrow buttons or the quick selection buttons. The running videos react to your input. If you change the treadmill speed, the video playback speed will change accordingly.
Running Competitions
With these 12 competition programmes, you can compete against computer opponents on different terrains. These competitions make a nice change to your training session and give you extra motivation.
Profile Programmes
A total of 17 predefined profile programmes are available, which differ in terms of duration, intensities and changes in intensity. When selecting the programme, you can decide whether the intensity changes should take place by changing the incline or by changing the speed.
Custom running programmes
You can programme up to 20 user programmes yourself. The programmes consist of several sections and you can determine the desired incline and speed for each section yourself. Save the programme so that you can call it up again and again.
Manual mode – organise your workout to suit you
The simplest mode for the cardiostrong treadmill TR70i is the manual mode: just press Start in the main menu and off you go. But simple does not mean that you cannot add variety to the training session. You have full control over the training session at all times; all values are shown in an attractively way on the large display, and you can use the quick selection buttons to make quick changes to your settings.
Excellent engine performance and a very large running surface
The cardiostrong treadmill TR70i is equipped with a strong DC motor with 3 HP continuous output. This makes sure that the treadmill has an even acceleration and keeps the speed constant, even at high velocity. Even when you change the speed dramatically, the speed is adjusted linearly and very evenly. The treadmill offers you a top speed of 20 km/h. The generous running surface ensures you feel nice and secure, so you can give it all you've got.
Easy assembly, easy handling
The cardiostrong treadmill TR70i also offers all kinds of amenities before and after training. Following the instructions, the four-step assembly takes two people less than half an hour to complete. Thanks to a clever folding mechanism, you can fold up the running surface after training and simply use the castors to move the treadmill to wherever is more convenient.
---
Warranty conditions: cardiostrong treadmill TR70i
The guarantee is valid in terms of the general statutory provisions for the end user.
---
cardiostrong treadmill TR70i Test & Evaluations
Write a product rating now and win a gift coupon of 500 € or the refund of the paid purchase price. The choice is yours!
Write the first rating!
---
Fitshop puts each fitness equipment through its paces. Then our team of sports scientists, serious athletes, and service technicians of many years of experience evaluate the products of different categories. Compare easily the products using the Fitshop expert review and find your appropriate equipment.